Has it been almost a year since you bought your website? Then now is the time to renew a couple of things that help run your website on the Internet. One of them is your website domain renewal. 
For a quick brush up, your website domain is a part of your website's URL. For example, in www.hackowls.com, "hackowls" is the domain name. 
To understand more about domain names, read: Checklist: Do You Have Everything You Need to Take Your Business Online? 
To build a website, you or your website designers/developers will have bought the following: 
A website domain

A hosting for the domain
Usually, your website developer will take care of renewing your website's hosting by charging you an annual fee. So, that's taken care of. 
However, you will be responsible for your website domain renewal(step-by-step instructions below). But don't worry! It's easy and quick just like purchasing a new domain. 
A guide to purchase a new domain: Here's Why and How You Can Invest In a Good Business Domain Name
A few things before we get started with your website domain renewal: 
You can renew your domain for 1 year, 2 years, 3 years or 5 years. 

If your business is well-established and you are sure to use a website for the longest time, renew your domain for 5 years. 

If you are likely to forget website domain renewal, despite

Godaddy

's alert emails, go for the longest (5 years) renewal possible (pstt happens to a lot of us because an entrepreneur always has a 100 things on their to-do list). In case you forget to renew your website domain, and someone else buys it, it will be a costly affair to reclaim your domain. It's best to avoid this scenario. 

If you are pretty new and uncertain about the future of your business, opt for a 1 year or 2 years subscription. 

If you initially wanted to buy a something.com but it wasn't available and got a something.org instead, check if your initial choice is available during the renewal. If it is available, buy it and get your developer to divert the traffic from your old domain to your new one. (It can be done without disturbing your website's SEO) 
Instructions For Website Domain Renewal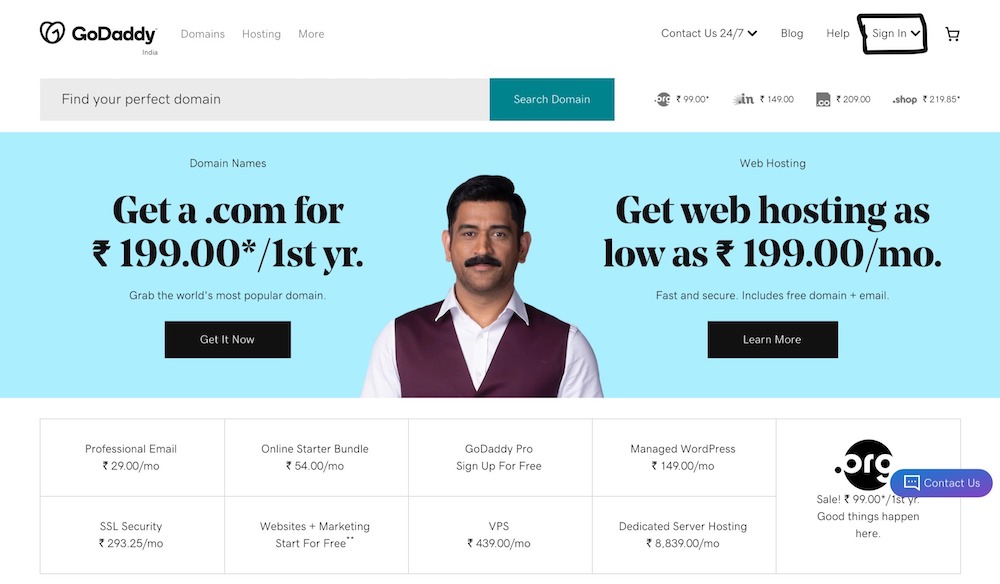 Step 1 – Visit https://in.godaddy.com/ 
Step 2 – Click on 'Sign in' on the top right corner of your screen. 
Step 3 – Enter the login credentials of your Godaddy account in which you purchased your website domain name.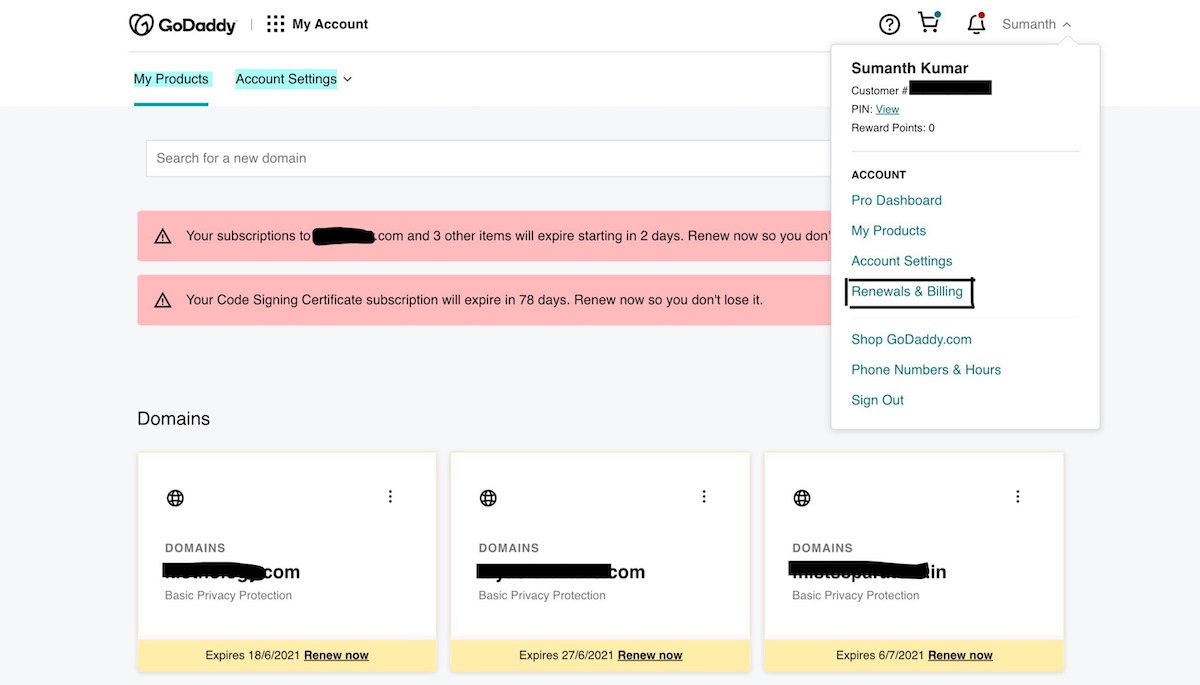 Step 4 – As soon as you log in, your dashboard will appear on your screen. 
Step 5 – Click on your name on the top right corner near the bell icon. 
Step 6 – A drop down menu will appear with information about your account. Click on the 'Renewals & Billing' option.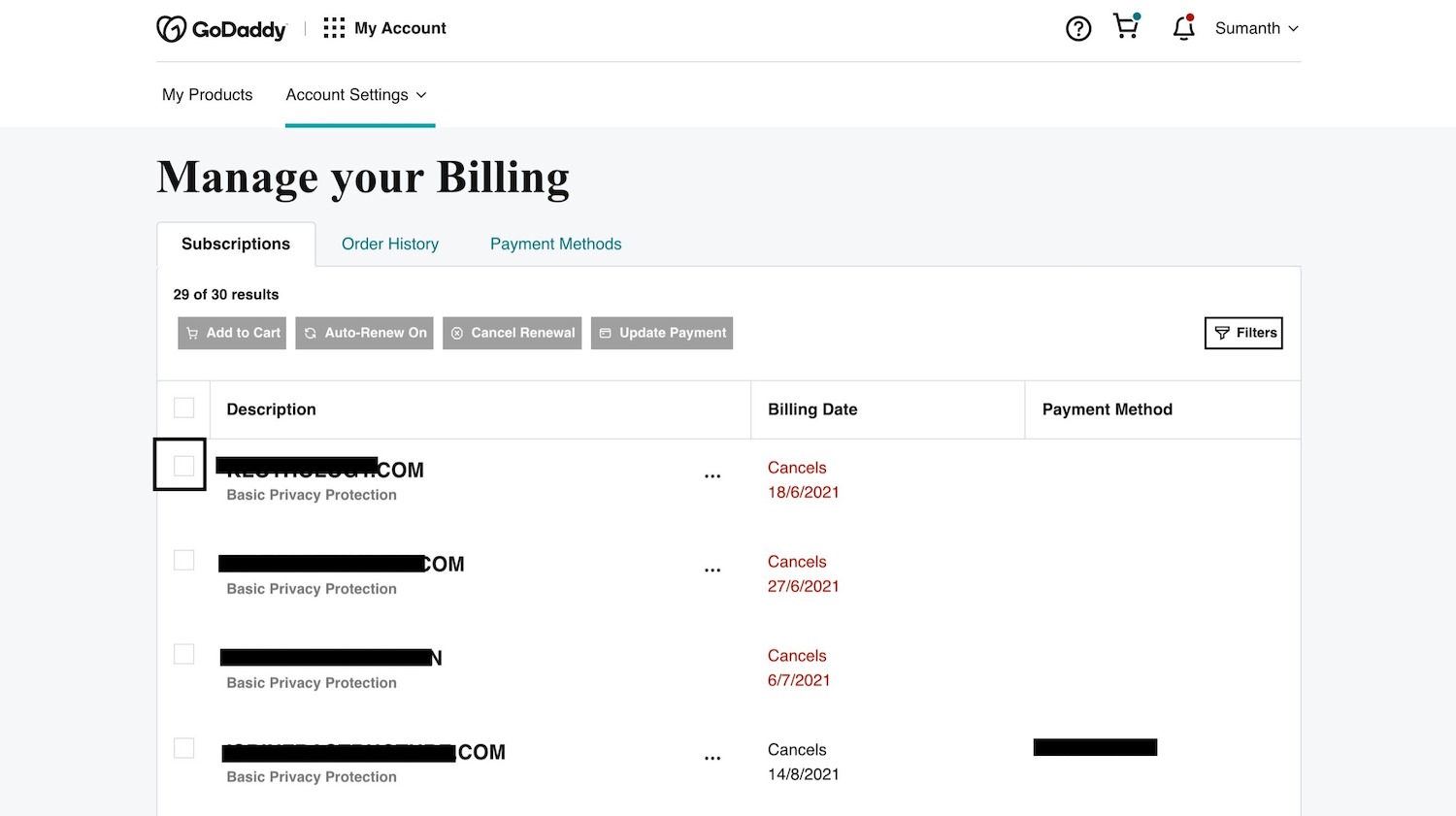 Step 7 – Your subscription(s) will appear in a tabular format along with the validity date. If the 'Cancels' and the date under it coloured in red, your subscription is ending soon. 
Step 8 – Check the checkbox that is on the left of your website domain name.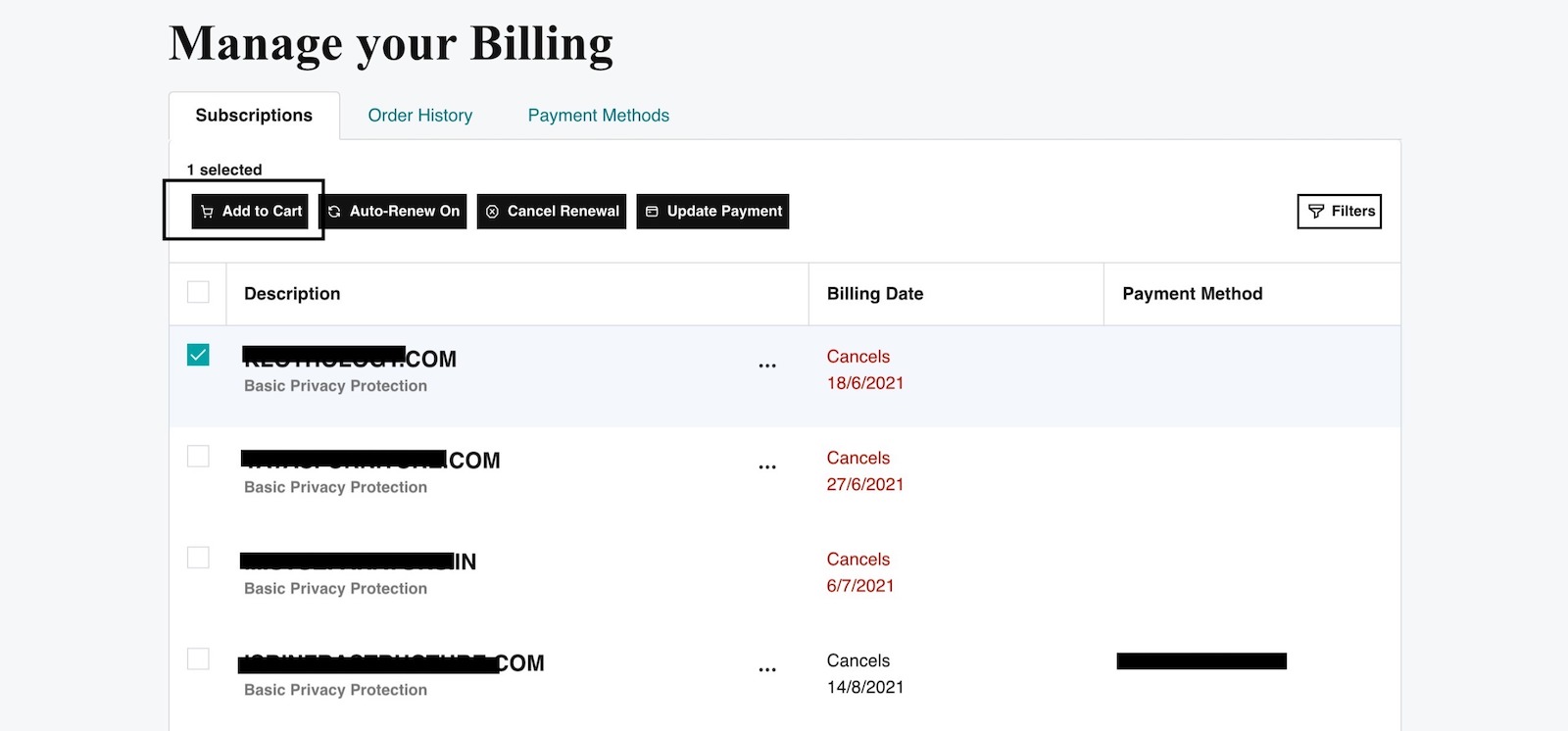 Step 9 – Click on the 'Add to Cart' button just above it.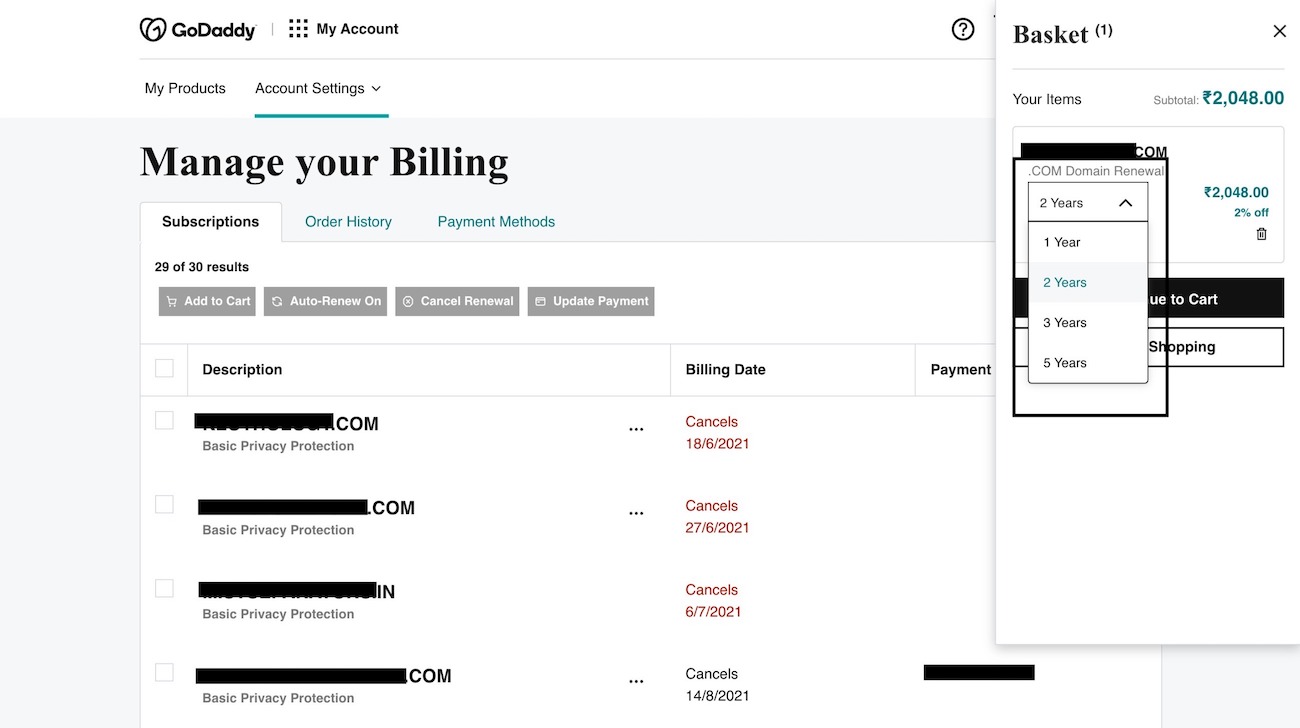 Step 10 – Your basket/cart will pop up on the right side of your screen. Here, you can choose your subscription period. (If you choose 2 years or more, Godaddy offers discounts) 
Step 11 – After choosing the number of years, click on the 'Continue to Cart' button.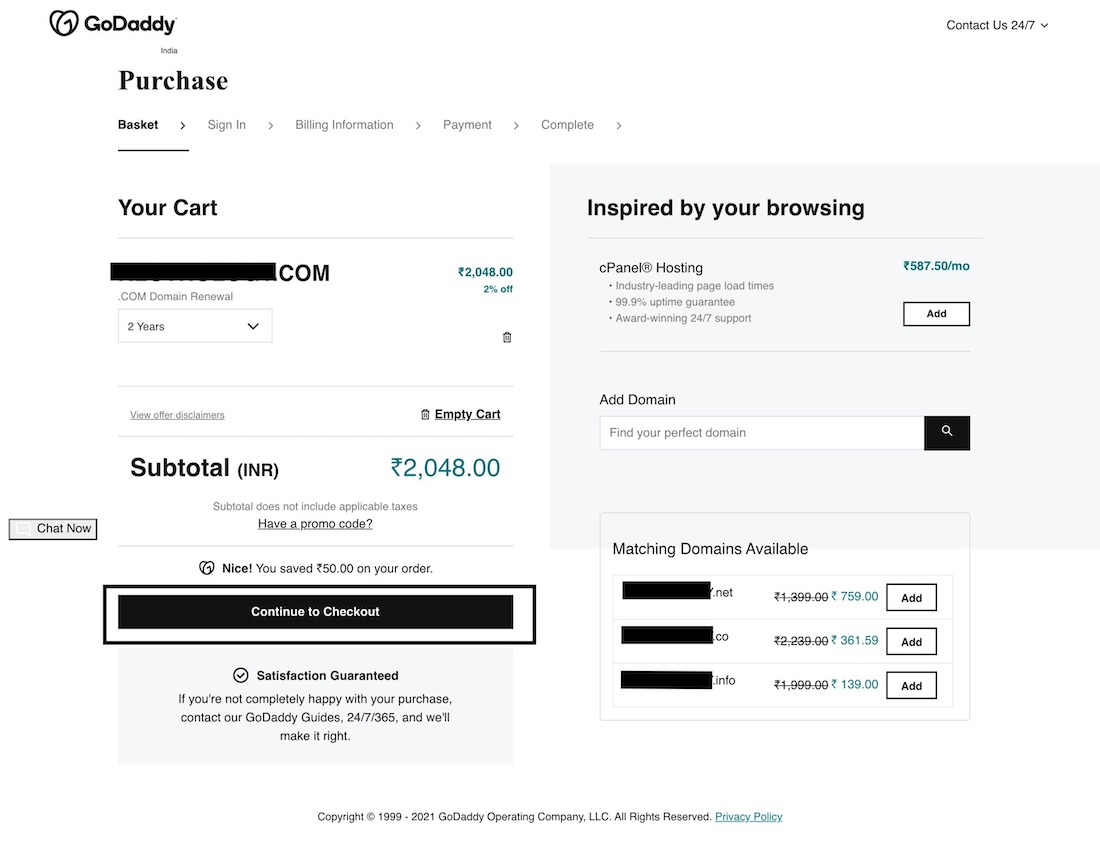 Step 12 – Recheck your website domain renewal details. You can also change the subscription period in this step. 
Note – Similar available domain names will appear on the left bottom of your screen. In case you want to change your domain extension (.com/.in/.org/.net), you can purchase it here. Make sure to also renew your old domain while purchasing your new domain. Once you completely change your website details everywhere(on your business card, letterhead, online listings etc.,), you can choose to discontinue your old domain during the next renewal period. 
Step 13 – If all your details are correct, click on 'Continue to Checkout'. This will take you to a payment page where you can choose and pay using your convenient payment method.
And done! You saved your website domain from getting expired. Still got questions? Ask them away in the commenst below!