Having a digital presence is a must-do for businesses in the COVID-19 era. A digital presence largely involves having a fully functional website. One of the first things you need for a website is a business domain name. 
Your domain name is the first thing your customer will see online and it will create your business' first impression. As an entrepreneur, you know how important your first impression is. But you might be missing the fact that you have only 7 seconds to make it. And you absolutely cannot afford to make way for errors. 
There are multiple ways in how you can make your first impressions matter most and one of them is your business domain name. 
What Is a Business Domain Name?
You type a www dot something dot com. The 'something' is what we call a domain name. The domain name is the name of your business used to identify you. 
Example – www.hackowls.com 
www – subdomain
hackowls – domain name 
com – extension 
Can You Pick Your Business Domain Name?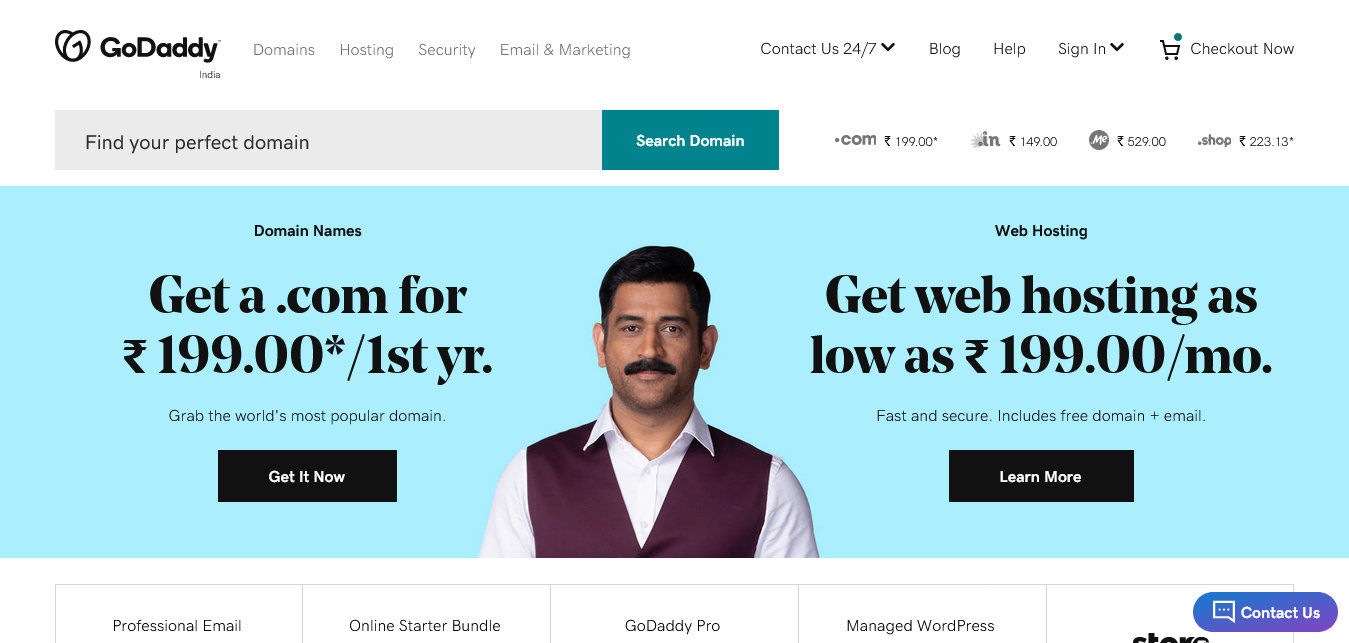 Yes! Not only can you pick your domain name but also your extension. There are many domain registrars from whom you can buy your business domain. GoDaddy and Google are two of the most popular domain registrars around here. 
At Hackowls, we suggest our clients purchase their business domain name from GoDaddy. They are excellent at customer service and the process of buying one is straightforward and simple enough for anyone to do it on their own (scroll for step-by-step domain name purchase guide).
What Should Your Business Domain Name Be?
Make sure your business domain name is the same as your business' name. When you are consistent with both your offline and online presence, your customers will easily identify and relate with you. 
Here are some things to consider while choosing your business domain name – 
Check if it not trademarked 

The shorter the better 

Keep it easy to type, pronounce and remember

Avoid hyphens and numbers

Think long term
Which Extension Should You Pick?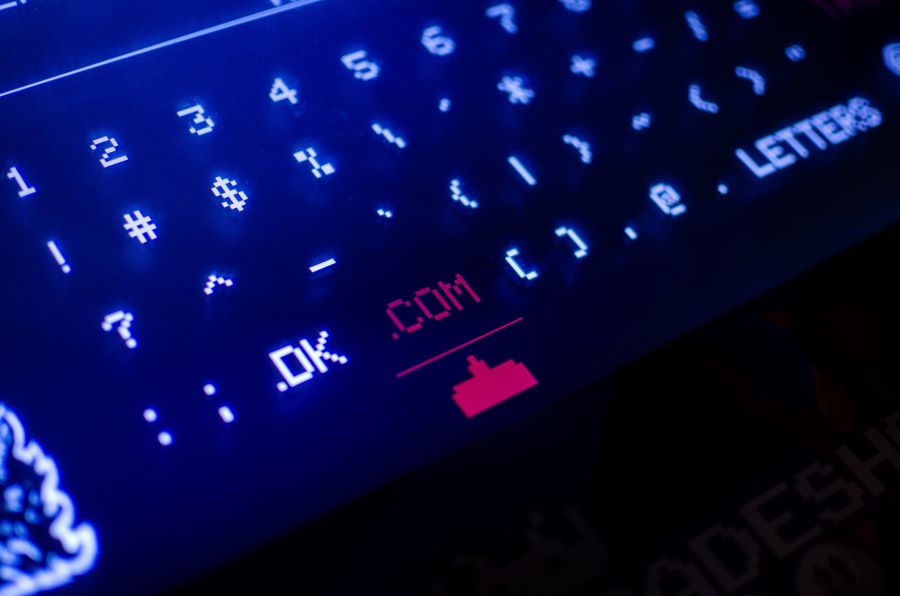 When people think of a website, they naturally think of a www dot something dot com. 52.3% of all top-level global websites end with a .com extension. The reason behind this number is credibility and reliability. A study by Growthbadger shows that .com has the highest trust ratings. It also says that .com domains are 33% more memorable than the rest. We trust that's enough stats to convince you to pick a .com business domain name. 
Some other popular extensions are .org, .net, .edu and .in. If you are an organization, it makes sense to pick a .org for your website. Or if you are an educational institution, go with a .edu. If you are neither, always prefer a .com. 
How To Buy Your Business Domain Name?
Buying a domain name for your business is as simple as buying anything off Amazon. You pick what you want, add it to the cart and proceed to pay. 
Step 1 – Visit https://in.godaddy.com/ 
Step 2 – Click on the search box (top left corner) and enter the domain name you want to buy. 
Step 3 – If your domain is available, a hurray image will appear along with the price details and an 'Add to Cart' button. Click on the 'Add to Cart'.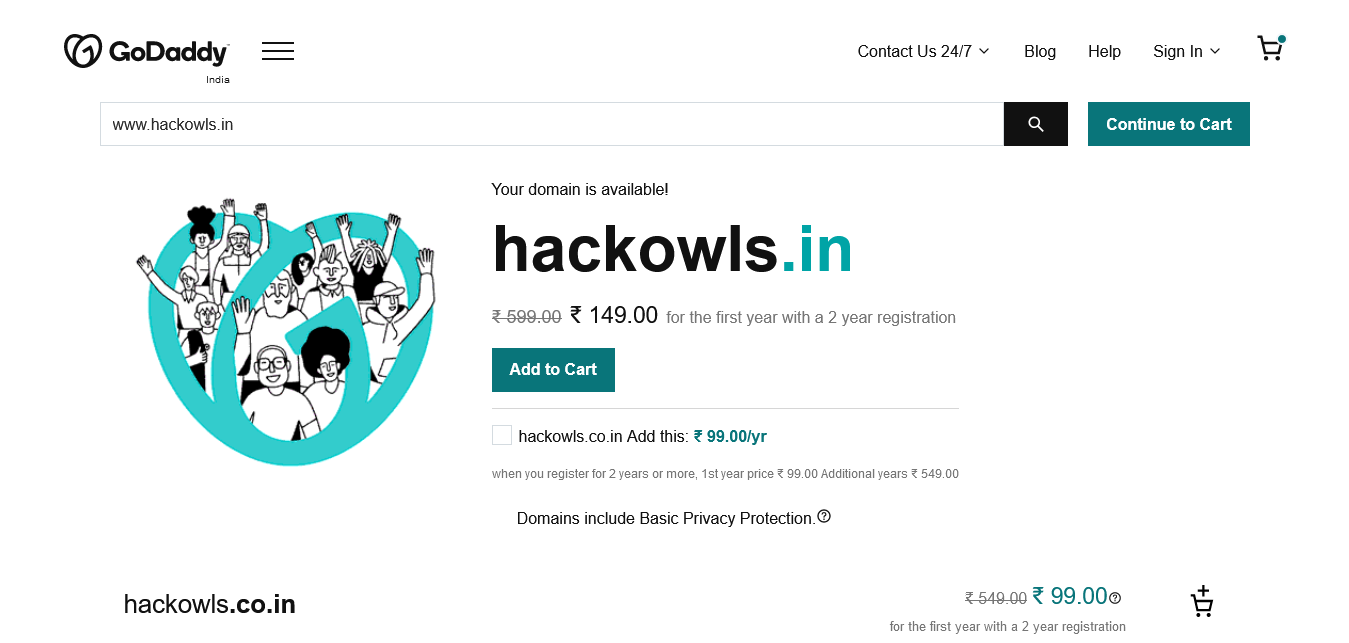 Step 4 – Your basket will open on the right side of your screen. Here, you can choose the duration of time for which you want to purchase your chosen business domain name. You can buy for 1 year, 2 years, 3 years, 5 years or 10 years. GoDaddy gives you discounted deals if you purchase for 2 years or more. 2 years will be automatically chosen but you can edit the duration by clicking on it.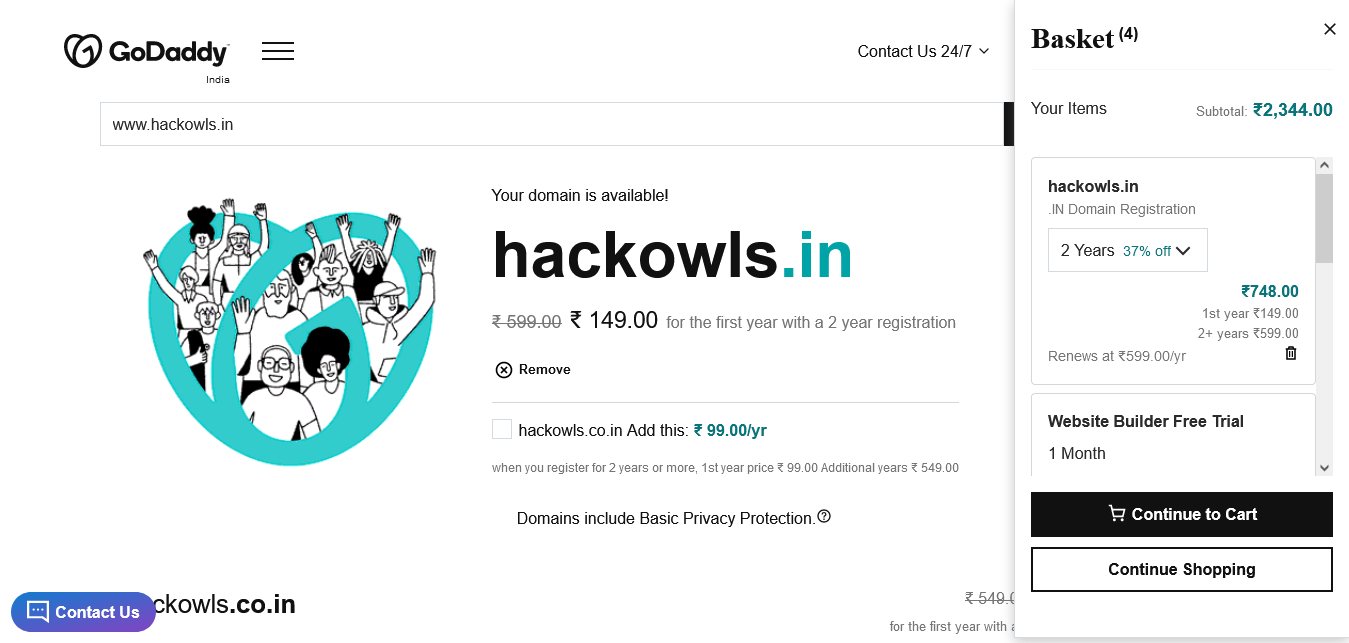 Step 5 – Click on the 'Continue to Cart' button. You can then choose a privacy and protection plan if required. Again, click on the 'Continue to Cart' button and review the items in your cart. Make sure the domain name and the duration are right before checking out.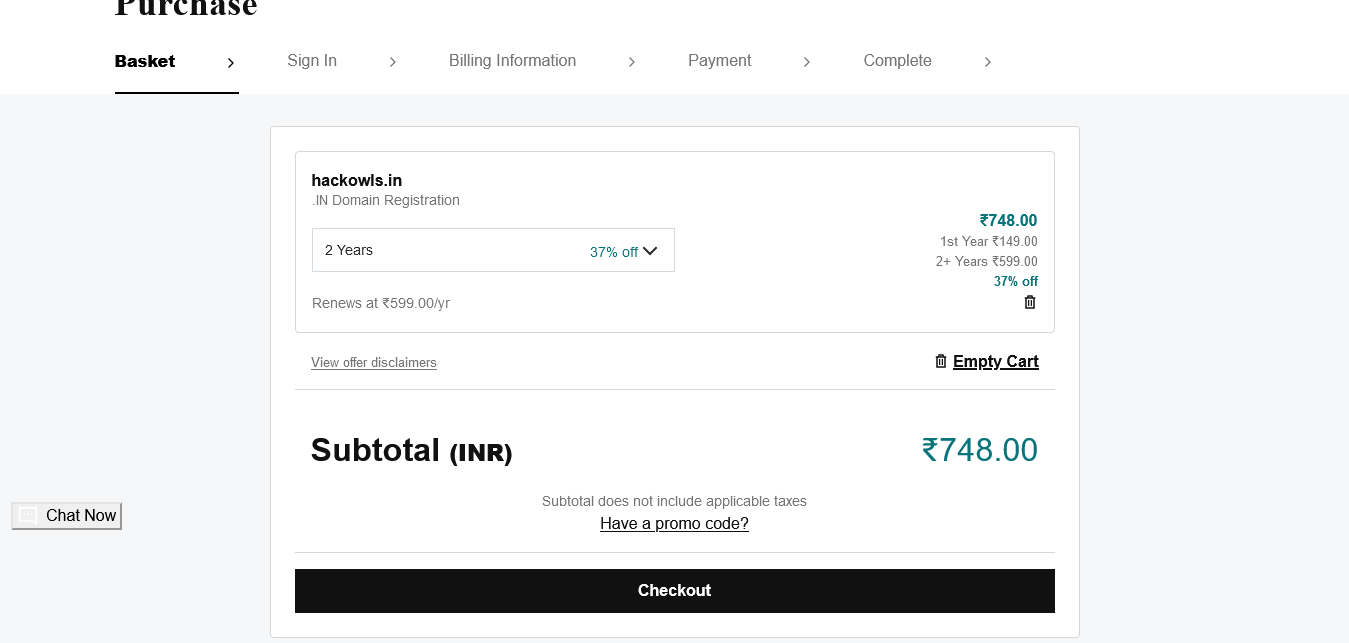 Step 6 – The purchase will require you to create a GoDaddy account if don't already have one. Create an account with a non-personal password as your website development team will need access to it.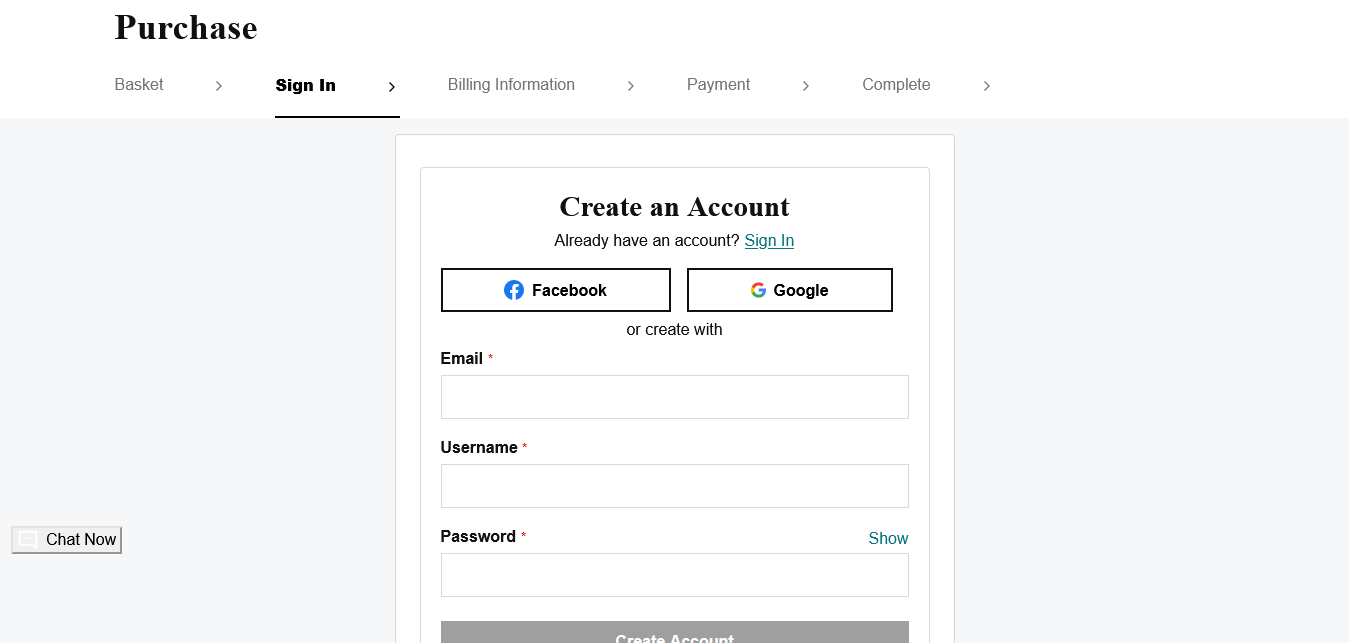 Step 7 – Add your billing information and payment details before making the payment. 
Step 8 – Share your GoDaddy credentials with your website team. 
Step 9 – Sit back and relax. 
In case your domain name is not available in step 3, a list of alternatives will be provided for you to choose from. Unless you have a commonly used name (business or person), you will not have to deal with this obstacle. 
What Should You Do After Buying Your Business Domain Name?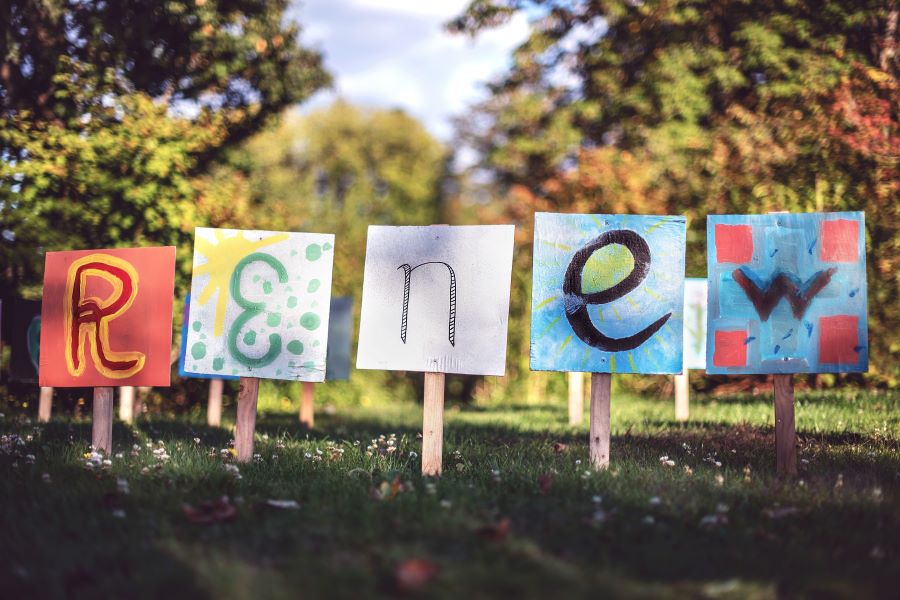 Just one more thing. Renew your domain name just before it expires. Domain Renewal Anxiety is real and you can avoid it if you renew your domain on time. Owning your domain name is important in the digital world. If you purchase your domain for a certain number of years and do not renew after that period, you will lose ownership of your domain. 
Reclaiming an expired domain is a costly affair and it is best to dodge it. GoDaddy will send you reminders via emails or phone to renew your business domain name before expiration. Either set a reminder on your calendar or look out for these reminder emails. 
Your business domain name will impact the potential of your website and your business' impression for your customers. Thoughtfully and strategically, pick what works best for your business. If you have more questions brewing in your head, comment below and we will help you out. Once you buy your domain name, get in touch with our team and let's create a website/landing page that does wonders for your business.