Website is undoubtedly the best silent marketer. Once you already have your website up and running, what are the next steps to utilize them to the fullest potential? How do you direct your potential clients to your website so that they get to know more about you and finally do business with you? The answer is social presence on both online and offline platforms.
Online – Social Media
One of the first and easiest ways to showcase your website and find potential leads for your business is social media. Social media is a great tool to get views for your website. To convert a potential lead into a client, social media will help you find potential leads, a website will help you convert them into clients. How do you do that? Let's see in the upcoming sections.
Business Profiles
Business profiles are just like personal profiles but with options to add detailed information about you and your business. There are different types of business profiles in different social media platforms. Ways to use them to your advantage is written below.
The biggest social media platform allows you to showcase your business on them by creating a page. A social media page on Facebook is very easy to manage because of different access levels you can assign to different people. You can assign an editor, moderator, analyst and advertiser to do different jobs like posting, adding/removing content on posts, analyse the reach of posts and advertise your page respectively. This division of labour will help very much when you want to run a digital business(/campaign).
How to add your website to a Facebook page is shown below:
There are two ways to add your website to your Facebook page. Since they are a bit tricky, we decided to create a little video to guide you through it.
This social media giant from Facebook lets you showcase your business in the form of normal profiles but with additional features like Call, Email and Directions buttons along with a little pre determined selectable description about who you are. Like Facebook, You can also get insights about your follower behaviour. This social media's platform also lets a normal personal profile be converted into a business profile, so if you already have a profile with a good number of followers, you're just one click away from becoming a business profile!
Step 1: To add your website to Instagram, click on the edit profile button on your profile page (in both desktop and mobile) to open the profile details panel
Step 2: There you will be able to add your website link under the name "Website" (Below Bio) Click on it and Edit it
Step 3: Don't forget to hit save on the top right corner!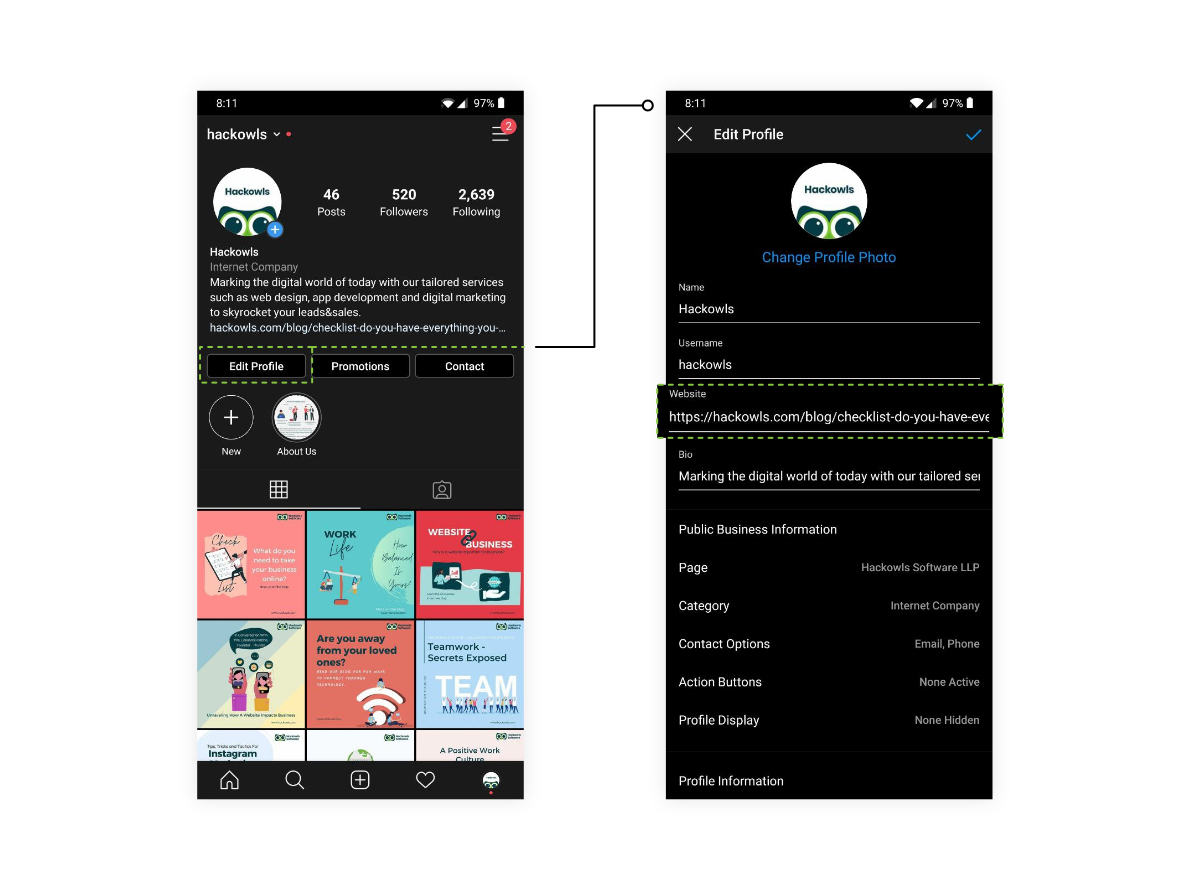 Business Accounts from twitter are not very different from the normal social media profiles. At the time of writing they don't provide very detailed stats like Instagram but they do provide some insights about how your profile and posts are performing. Twitter is a great way to engage with your followers easily if that is what your brand needs. A lot of consumer brands are currently taking up Twitter to engage with customers. It's easy to use interface and tweet character limit makes sure whomever wants to connect to you keeps it crisp and clear.
Adding a website to Twitter is pretty straightforward and it is mostly like Instagram. Click on edit profile on your profile page and then add your website to it. That's it!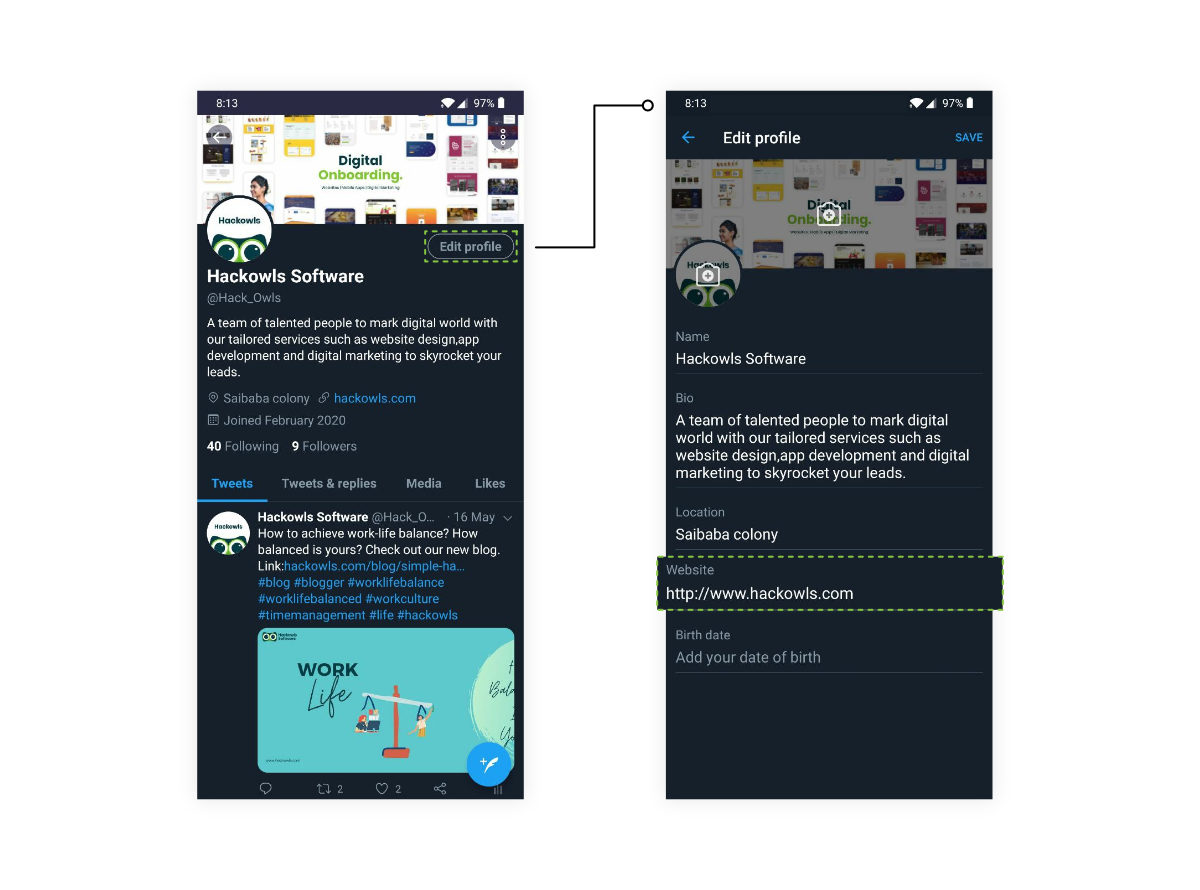 Business Accounts on WhatsApp are a great way to engage with your audience personally. You can send automatic replies when you're not present to reply and also send quick replies which can be created and saved as per your needs. WhatsApp allows you to add your website to your WhatsApp Business profile. 
Step 1: To add your website to your WhatsApp Business account, you will need to open settings by clicking the three dots in the top right corner
Step 2: Tap on the profile to open it
Step 3: Then edit your details by pressing the pen icon in the top right corner. Here you will be able to add your website details to your profile. Add it and hit the save button present in the top right corner
This will be of great help when people try to contact you through WhatsApp and want to know more about you.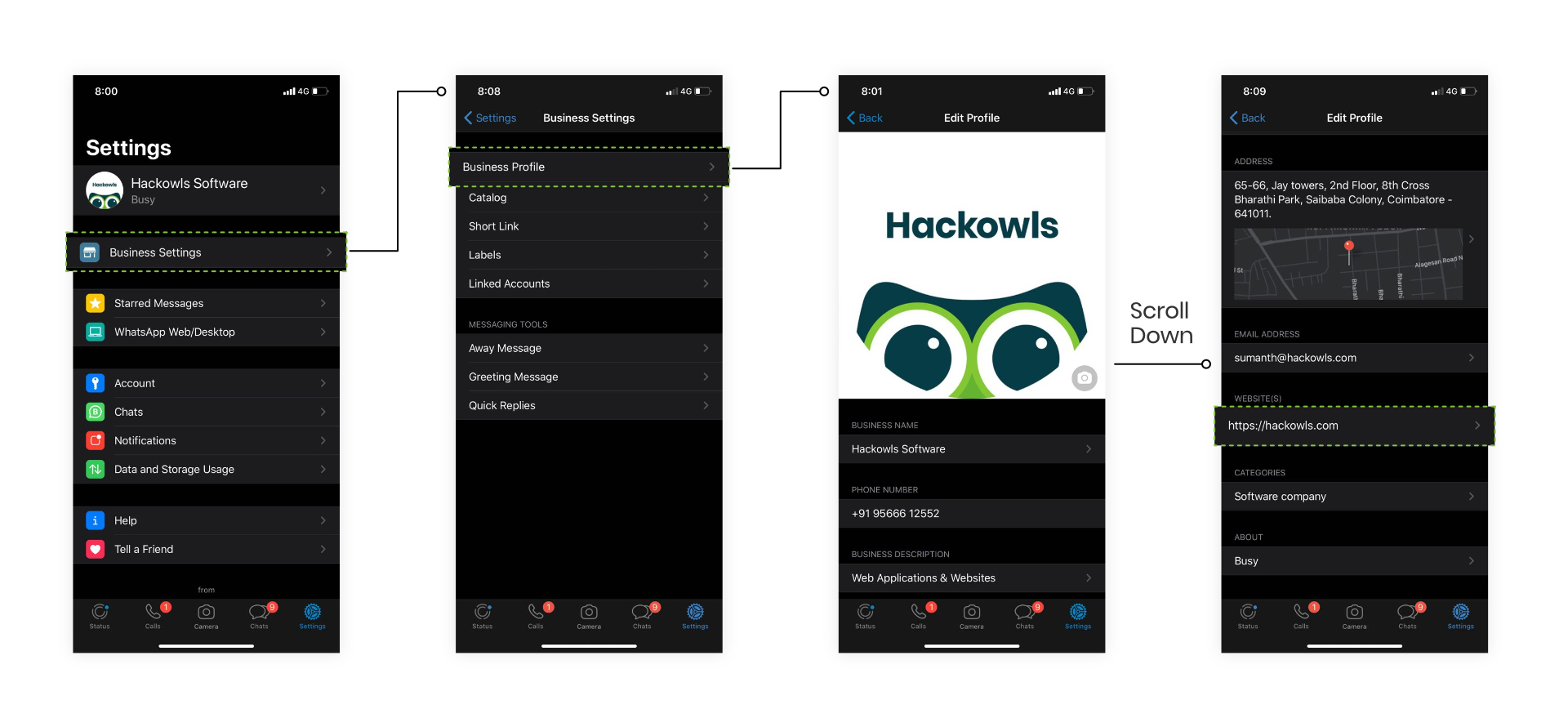 This is the place for all professionals who want to get the word out about their professional and academic achievements. It is also the right social media to find and hire new people for your company. It is not a great platform for small and medium businesses to put up ads or engage with people because it is pretty well optimized for professionals and larger businesses. 
Adding your website to your profile here could improve your credibility. To top that off, LinkedIN allows adding multiple websites to your profile as "company", "portfolio" and more.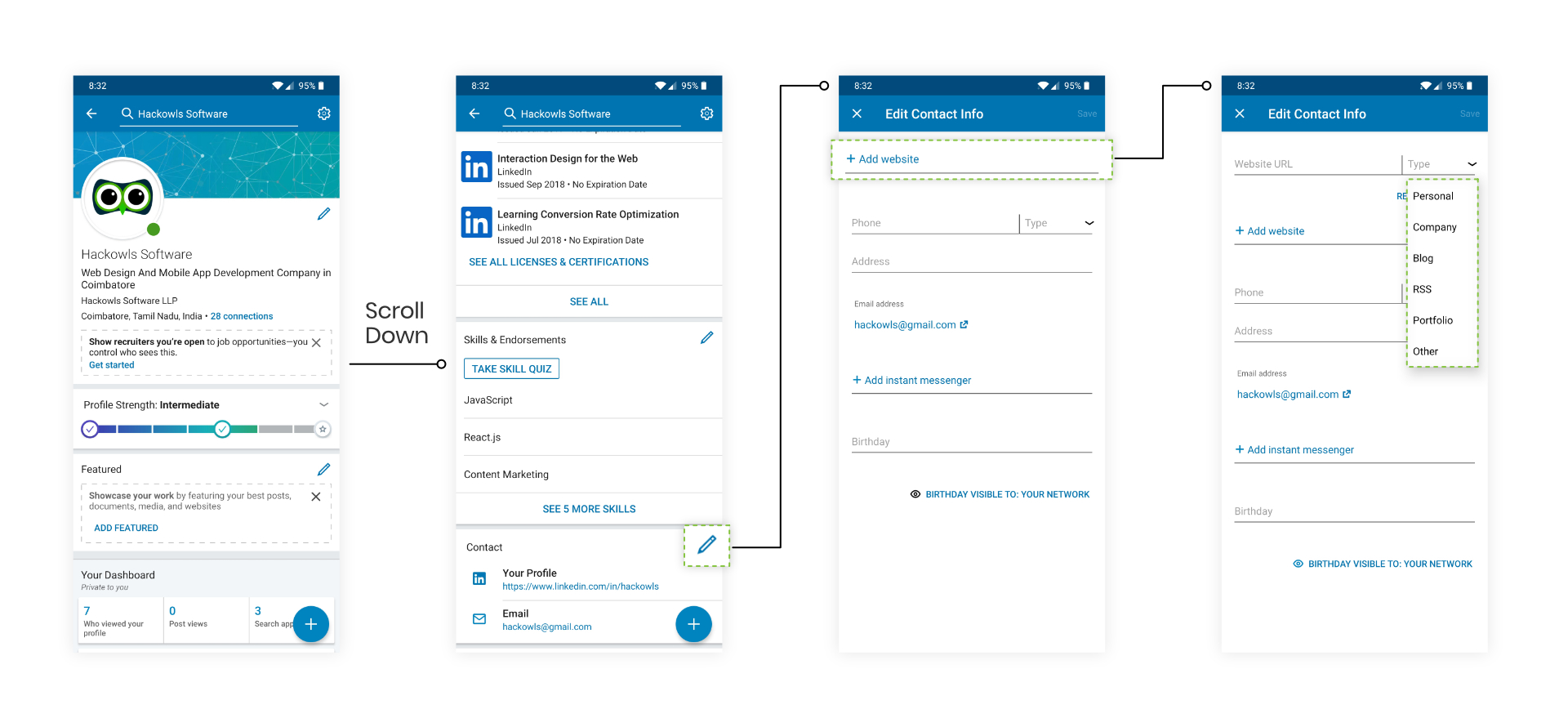 Online – Listings 
Other ways to get a website out is adding your website to Just Dial, Google My business Profile and Yellow pages.
Adding your company and website details to just dial is a breeze. 
Step1: Go to Just Dial website
Step 2: You will see a button on the top right saying "Free listing" Click on it
Step 3: Add your company and website details to just dial listing.
That's all! Neat and clean, right?
2) Google My Business Profile
Adding website details to google my business is also a breeze.
Step 1: Log in to your google my business page (shortly 'GMB' page)
Step 2: Click on the info button
Step 3: Click on the pen button next to the line "Website"
Step 4: Type in your website in the dialog box and hit save.
Yellow pages is still prevalent as an online directory now, but it is not as famous as other listings. You can list here by creating a profile and adding your company details and your website details.
These are not the only pages where you can showcase your website and get to meet potential leads. There are forums, communities and listings specific to your industry where you can share your website link and showcase your expertise!
There are quite a few ways to showcase your website link offline. One of the most common ways is to add a qr code of your website to your flex/brochure or catalog. Contrary to common thought, creating a QR code is not a complicated work. QR code is nothing but a different way of writing your website link. It is just a different language which a computer, that is your phone, finds easy to understand. If you want to generate QR code for your website, head on to https://www.the-qrcode-generator.com/ a free and easy to use qr code generator where you can create and save your QR Codes.
Step 1: Open qr-code-generator.com
Step 2: Select "url" from bar which reads "Free Text" , "url" and so on
Step 3: Url is nothing but your website link. Type in your website link. (Say "hackowls.com")
Step 4: Select "save" button above the generated qr code
Step 5: Type in a file name, select SVG and hit save
There you have your QR Code for the website! If you want to check, open the file in any browser and scan with the camera app of your phone or any QR code scanner app.
You can also download the file in PNG and EPS formats if needed.
Another common but effective way to showcase your website to your potential customers is adding the link text (Say "hackowls.com") to all of your print material like visiting cards, brochures, catalogs, flyers etc.It is also an excellent idea to add the website link to your Name Board/Flex so that people who need to know more information can visit your website. It is advisable to not add any long links like links to a certain page or blog, because people tend to not type in such a long text when they type the link in a browser. One could also showcase the website by adding the website link in small sizes on their social media creatives as well.
From acquiring new customers through cleverly created landing pages and marketing campaigns and increasing your credibility by having a professional website, social media presence and email, there are endless possibilities with a website at hand. We hope this blog helped you to figure out what would be the next best thing to do once your website is up and ready. Add the website up on your social media handles. Send them to your old clients and rekindle the connection in a brand new way, send them to your potential clients to add credibility to you and your company. Getting your website ready is not an end, it is a new beginning. A new beginning into the digital world of client acquisition.